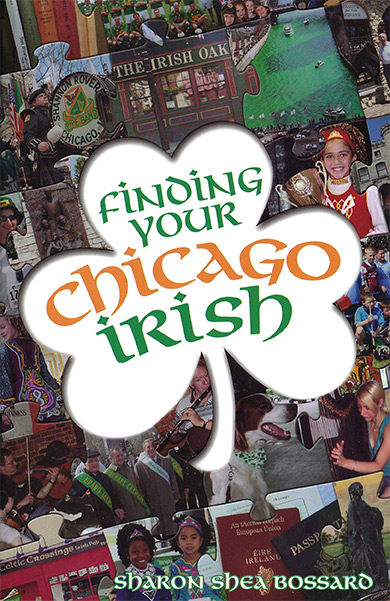 A guide for everything Irish in Chicago, this book represents the heart and soul of Irish heritage and culture. Included is a list of Chicago pubs where true Irish musicians perform traditional Irish music and tips to impress the pub crowd, as well as other historical and cultural sites and events.
Next Generation Indie Book Award – Finalist – Regional Non-Fiction
Illinois Women's Press Association Communications Contest – 1st Place – Non-Fiction Instructional
---
Connect with Your Chicago Irish… Where the Culture Is Grand, the Community Lively, and Good Craic is Legal
Being Irish in Chicago means you're twice blessed first with a proud heritage, steeped in rich history and cultural traditions, then with a hometown abundant in opportunities to explore and celebrate your roots.
In Chicago's Cook County alone, more than 500,000 residents claim to be Irish descendants. When Irish immigrants in search of a better life settled in neighborhoods such as Mt. Greenwood, Beverly, Lakeview, Jefferson Park, and Edison Park, raising families, building parishes, and contributing their talents to help shape this city, they imprinted on Chicago the enduring reflection of their identity.
Shamrocks and green beer may fuel stereotypes, but Sharon Shea Bossard steers past the paddywhackery of such limited views of what it means to be Irish. In Finding Your Chicago Irish, Bossard offers a comprehensive, entertaining field guide to the heart and soul of Irish heritage and culture in Chicago.
This unique GPS of sorts will give you instant access to destinations and resources available to anyone with an interest in Chicago's Irish community. The tourist in you will love Bossard's infectious encouragement to explore and the fascinating details she weaves into her roadmap.
Navigate with ease to:
Local venues and heritage centers that preserve Irish cultural legacies in the arts, sports, organizations, clubs, holiday events, and a host of Irish-themed activities.
Educational opportunities: Discover the Irish language, get involved in Irish theater, get your jig on, or learn to play an Irish instrument; travel to Ireland for total immersion.
Cultural experiences for kids and teens.
City and suburban Irish pubs and restaurants, specialty stores, entertainers and instruments makers, and even sources for Irish canine companions.
Irish radio shows, TV, newspapers, magazines, newsletters, and websites.
An informative genealogy section to inspire you to research your Irish roots and investigate the possibility of becoming an Irish citizen.
Family recipes for your own authentic taste of Ireland. "Chicago is no Second City when it comes to the Irish," says Bossard. "But you don't have to be Irish to appreciate the traditions and culture of an ancient land whose history reflects the spirit of America. If you spend enough time exchanging good craic (social life) with the Irish, you'll be talking with a lilt to your voice in no time at all."